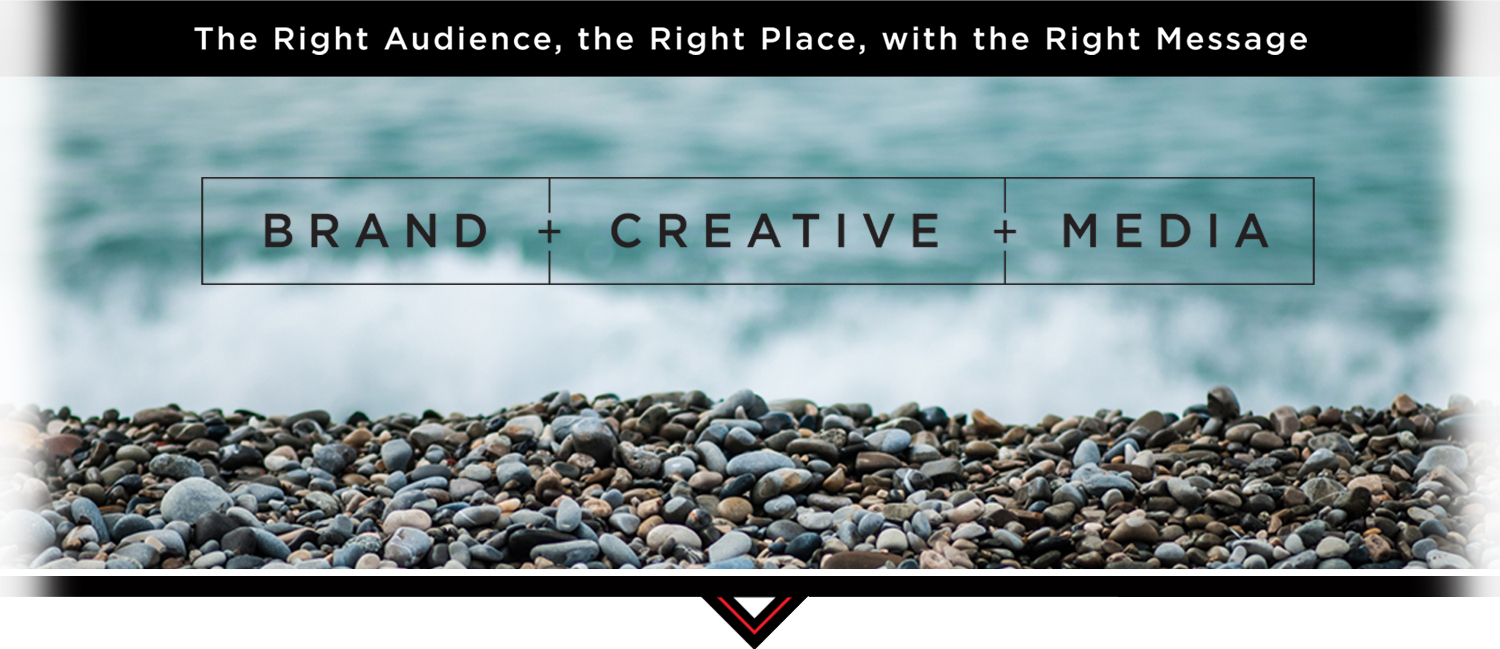 BALANCE… and the RIGHT PATH
We believe that the most successful marketing strategies balance a strong BRAND relationship, simple and innovative CREATIVE and know which MEDIA channels are the most cost-effective "Path to Purchase" for your audience.
Our Client's Marketing Investments Produce ROR
A Return on Relationships
(Increased Awareness & Engagement with Customers)
A Return on Results
(Profit and Purpose)
All successful companies and campaigns start with a CLEAR STRATEGY
We ensure that your corporate and marketing strategies align so that we deliver to your expectations and on schedule.
We have a professional strategist for all your Branding, Creative and Media needs.
We believe that your customers, just like you, live multi-dimensional lives on many media channels, so why would you focus a marketing campaign on only one? Therefore, we specialize in getting your brand noticed wherever your customers spend time.
We have a solution for every budget and help you get the most reach for your money. Your campaign is uniquely tailored to your goals, your budget, your market and your customer's needs.
We WOW you, but most importantly we WOW your customers.
We perform as if we are your In-House Marketing & Media Department.
We can be available for a one-time fix, a marketing campaign,
or assisting with day to day marketing functions.
We're a dynamic and diverse group of specialists, with years of industy experience, providing effective solutions in marketing, communications and design, to a broad base of clients.
Here's just a few of the clients we've done work for...
PACIFIC BREEZE WINERIES
JAMES BAY DISTILLERS LTD.
THE WINE FACTORY
L'USINE BREWERY
NEW WEST HOSPICE SOCIETY
ALTA. LEARNING DISABILITIES ASSOCIATION
CANADA AFRICA NETWORK
BENJAMIN MOORE PAINTS
DOUGLAS COLLEGE
YVR
HONEYWELL
RITCHIE BROS. AUCTIONEERS
AMERICAN STANDARD
BOUNTY CELLARS WINERY
SILVER BARREL VINEYARD
VANCOUVER FOOD BANK
FRASER RIVER DISCOVERY CENTRE & RIVERFEST
RIVERSHED SOCIETY OF BC & FRASERFEST
ALBERTA MINISTRY OF TRANSPORTATION
PASSING ZONE (LEARNERS DRIVING APP)
HORRA FAMILY LAW
KEARNS & CO. LAWYERS
CARSON SLUSH CO.
RIVER MARKET
NORTH PACIFIC YACHTS
JACK CEWE LTD.
SEARS CRAFTSMAN
SAMS CLUB
COSTCO
CANADIAN TIRE
SOLAR-INFRA SYSTEMS

Laura Caldwell

Former Marketing Manager, Ritchie Bros. Auctioneers

I worked with Mari-Lou for Ritchie Bros. Auctioneers and I know that her work is thought-out and accurate. She understands the big picture and sees how all the pieces come together.

Coreen T. Sol, CFA

Vice-President and Portfolio Manager - CIBC Wood Gundy

I've worked with Mari-Lou for years and her work ethic is outstanding. InHouse Media + Marketing is built on integrity.

Trevor Brice

Owner / President - North Pacific Yachts / Vancouver, BC

We've been working with Terry Hill for several years. Terry's creative ideas and design skills are excellent; we've always been happy with the end result. We also appreciate his ability to meet deadlines and willingness to work with us when project deadlines are tight
We put together industry news, trends, entertaining stories and interviews with entrepreneurs and suppliers who an impact on our marketing world. Interesting stuff to us that hopefully keeps you informed too. And we're always looking for feedback and comments.
So grab a cup of coffee, pull up a chair and take a breeze through our blog postings.
We're sure you'll find something that will PERK your interest!
Want to know more about us? Well we'd like to know more about you too!